Create your own white-label CRM software for your company and make its deployment a success with Twilead
A Revolutionary System for Online Entrepreneurs and Marketing Experts
How would you like to have your own software and simply add recurring revenue to your business? Click below to follow the instructions.
Join the CRM Software (SaaS) Sales Movement and Grow Your Agency
The system has a community, constant updates and rock-solid support. We've started from scratch, and we can help you manage support for your customers.
Give your customers the latest features like two-way SMS, marketing automation, funnel building, CRM functions and more!
You can customize your dashboard and subdomain, so everything is 100% white label! You can even get your own mobile app for iOS and Android.
The best part of the system is the ability to create an unlimited number of accounts for your industry specific clients. Add thousands of users if necessary!
A Saas training course is available to help you speed up your knowledge while deploying your own software. Perfect for entrepreneurs who don't code.
You will be able to integrate subscription billing, resale and automatic account creation for all your new registrants directly within the platform.
And that's just the tip of the iceberg!
No, we are not exaggerating. It is a UNIQUE system.
OUR MISSION: TO HELP YOU DEVELOP YOUR AGENCY
START BY CONSOLIDATE ALL YOUR MARKETING FUNCTIONS IN ONE PLACE
Our system is the very first all-in-one platform that will give you the tools, help and resources you need to be successful with your agency.
1. Fully under your brand
Our agencies like to offer more value to their clients. With this system, you also have the possibility to create your personalized mobile application.
2. Integration of Stripe for billing subscriptions
Offer access to the application for an additional fee or include it in your services! Some of our agency owners have even turned full-time into SaaS software entrepreneurs!
3. Retain your customers for longer + increase the MRR
The CRM and the mobile application allow you to invoice more than you did before by offering a right of access to the platform to your customers.
DEVELOP YOUR BUSINESS WITH YOUR MARKETABLE PLATFORM
RECOMMENDED BY THE GREATEST EXPERTS IN THE SECTOR
ARE YOU STILL NOT CONVINCED?
VIEW OUR PLATFORM IN ACTION
IS IT RIGHT FOR ME AND MY BUSINESS?
GETTING STARTED: INSTRUCTIONS + QUESTIONS & ANSWERS (FAQ)
How to get started - FOLLOW THE STEPS BELOW :
Getting started with the Twilead platform under your brand name is very simple:
Register (choose a subscription at the bottom of the page) after clicking on the link above.
Contact our team by booking a call (menu "book a demo" menu); via live chat (bottom right); or at info@twileadconnector.com
by letting us know you've registered

(If you haven't already done so) Schedule a call with us to find out more about your objectives with the platform.
We'll set up the platform with/for you quickly and efficiently.
We support you in migrating your business and those of your customers to the tool (if necessary), and you benefit from premium support line on WhatsApp and/or Slack directly with our experts for take advantage of our integrator services and an action plan to shortcut several years and thousands of hours of platform knowledge in order to save precious time and achieve results fast!
So who exactly is this for?
The white-label system we offer is perfect for companies wishing to promote their own software to their customers, for existing agency owners whose customers already use marketing software such as Clickfunnels, Klaviyo, Hubspot, Pipedrive, Kajabi, Kartra… CRM systems, email marketing, SMS, and other funnel and sales page builders. You can use the system as an added value for your customers to increase loyalty, or offer your own Saas CRM platform to users. The platform is ideal if you're generating leads for them, as you'll be able to see their activity in their dashboard. You can also hide certain features if your users or customers don't need them. Offer a unique agency experience and stand out from the crowd for your customers.
What does support and training look like?
With the support of our team and community, you'll learn the best strategies that the most successful marketers use to generate maximum revenue online, so you won't have to waste another euro. Join the official Facebook group to chat with other SaaS entrepreneurs and agencies to network and improve your skills. On a daily basis, the responsiveness and competence of the support will be of invaluable help in all circumstances. And because we want you to be REALLY successful with this platform, we'll help you deploy it for your business and support your customers with expertise that's unique since its creation in 2019 and offers the specifics of YOUR market.
What are the features of the system?
System features include SMS marketing, e-mail marketing, voicemail marketing, appointment setting, follow-up, nurturing, landing pages, unlimited website and funnel creation, reputation management, social media, CRM, white labeling, creation of complete workflow campaigns (sites, forms, funnels, triggers, conversations, workflows, etc.) and much more. It's the most complete system ever created and designed for marketing under your brand. Unique: our team can even provide white-label support for your users!
And if I don't have an agency, can I still register?
Sure ! If you simply want to run your own business with a product that's unique to your brand and in high demand, this system will make your job easier and save you tens of thousands of euros in development costs. The great thing about this system is that you can customize the dashboard and give personalized permissions and access to certain functions. You will be able to customize the platform to suit your branding image and your unique business proposition. For example, you could start your own software company, selling the platform to your customers to generate recurring revenue.
How many users can I have?
With the first subscription, you can only have one account. This subscription is perfect for unique in-house use cases to use marketing automation for yourself or for your customers. The following subscription (above this one) will allow you to have an unlimited number of users, and accounts! Yes, unlimited accounts. You talk about scaling up. All this while converting the advantages per account, namely unlimited access to all functions (number of contacts in the platform included!).
What interests do I have to go through you to access the solution?
Although there are many CRM and software solutions available in the market white label, at Twilead we have developed unique expertise, systems, support, and resources based on the source technology. Our teams, who used the solution shortly after its launch (2018), will provide you with PREMIUM advice and support, as well as UNIQUE third-party software integrations. You will have all this, in your language, and tailor-made to your market. It took us almost 4 years and thousands of hours to reach this level of competence and deployment of the solution, not only for marketing experts, but also for all types of vertical and industry, locally and internationally! Using Twilead means efficient implementation and accelerated mastery, where even marketing experts lose their footing in the face of the product's potential complexity, and may even give up! And, trust us, you don't want to miss this opportunity. Need to know more before getting started? Book a demo call to discuss it with a member of our team.
WANT TO KNOW THE BEST IN ALL OF THIS?
NO COMMITMENT, NO CONTRACT ,
CANCELLATION AT ANY TIME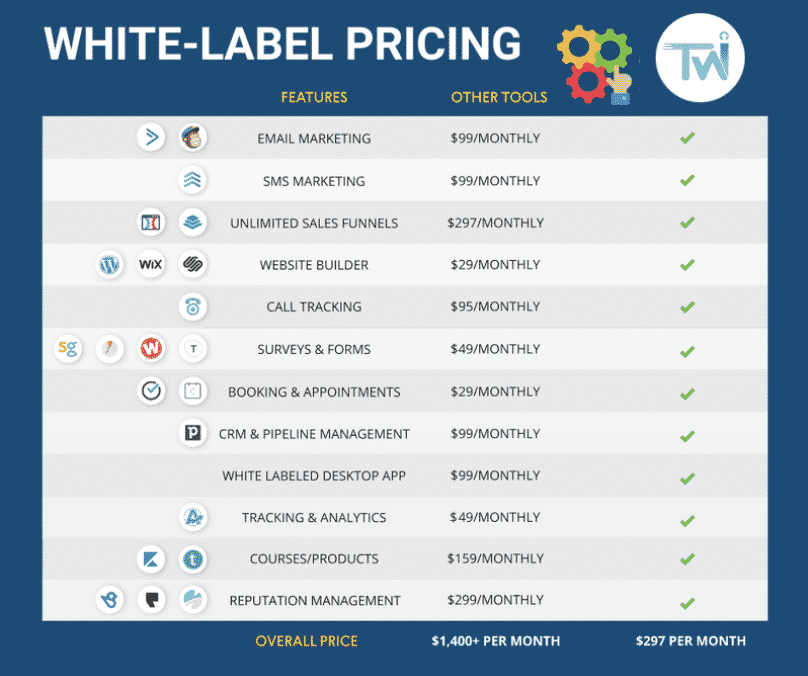 Get started with today's best all-in-one platform, under your brand
Your own version of Twilead, free for 14 days.